How to Start You Day
When you momsa wakes up, act casual. Likes "Hey Momsa, maybe wants to get up an makes me some bacons?" You don't have to actually say it. You just have to gets up on the bed where you nots sposed to be and stare intently. She will gets the message….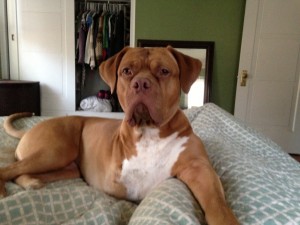 If'n she donts get up right aways, try layings down on hers legs to shows you understans is hard beings a lazy humans.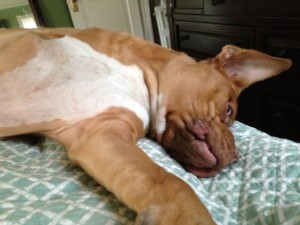 If'n she STILLS wont get ups, show her you dirty belly like "hey momsa, I needs a baths AND breakfast… days awasting, better gets up!"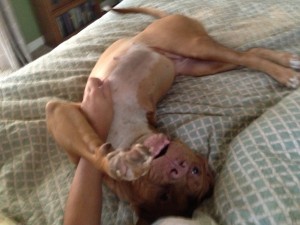 If all else fails, give hers you cutest face and try an looks like you starvin and startings to panics…. works everytimes!!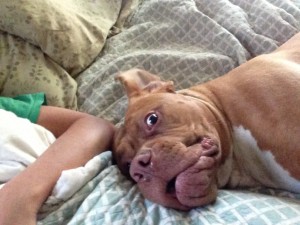 Keep on it, chowhoundses.  Luvs, Rosie
2 Comments so far
Leave a comment
benny55 01.03.14 @ 10:10 pm

ROOOOOOOSIE You are ADORABLE!! A D O R A B L E!!!

And a very, very clever girl! You know exactly how to manipulate yor mom with you "cuteness" and get exactly what you want when you want it! I bet you're making vocalizations too just to make sure your demands are known!

This post has me grinning ear to ear! Fun! Thank you for the smiles I'm scrolling back up tolook at these pictures a fifth time!!

I LOVE ROSIE,!

Sally and Happy Hannah
Leave a comment
Line and paragraph breaks automatic, e-mail address never displayed, HTML allowed:
<a href="" title=""> <abbr title=""> <acronym title=""> <b> <blockquote cite=""> <cite> <code> <del datetime=""> <em> <i> <q cite=""> <s> <strike> <strong>