Workin in tha Gardens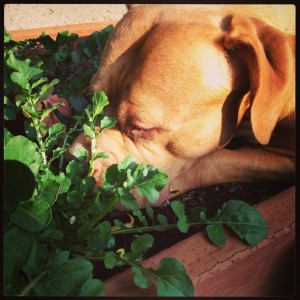 Momsa been replanting the veggies garden and I been helpings with the greens an the cabbages an the cauliflowers. I also maybes eats more than I plants an momsa say I'm "in tha ways", but I knows she needs my helpses…..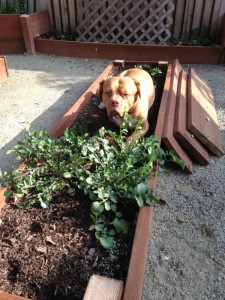 2 Comments so far
Leave a comment
Karma 01.10.14 @ 4:43 pm

What a cutie. When you are so darn cute and your mommsa loves you so much, I bet she overlooks your misguided attempts at helping in the garden.

Pam 01.14.14 @ 6:18 pm

Too funny a picture!
Leave a comment
Line and paragraph breaks automatic, e-mail address never displayed, HTML allowed:
<a href="" title=""> <abbr title=""> <acronym title=""> <b> <blockquote cite=""> <cite> <code> <del datetime=""> <em> <i> <q cite=""> <s> <strike> <strong>